Scientific Directorate
Scientific Director:
Deputy Directors:


Prof.

Ruggero

De maria marchiano

,
The Scientific Directorate is available to all researchers, medical directors and research collaborators of the Fondazione Policlinico Universitario Agostino Gemelli IRCCS to assist them in all stages of research and as well as in participating to national and international grants. Designs, implements and conducts cross-cutting research activities and, in particular, within the accredited subject areas.
Clinical Trial Office
Head: Marina Cicerone
EMAIL: marina.cicerone@policlinicogemelli.it
Disegno e Analisi Studi Clinici
Head: Diana Giannarelli
EMAIL: diana.giannarelli@policlinicogemelli.it
Fase I
Head: Gennaro Daniele
EMAIL: gennaro.daniele@policlinicogemelli.it
Grant Office – Scouting e Ricerca Sponsorizzata
Head: Filippo E. Leone
EMAIL: grant.office@policlinicogemelli.it
Grant Office – Institutional Grant
Head: Armando Vitolo
EMAIL: armando.vitolo@policlinicogemelli.it
Medicina di Precisione in Senologia
Head: Alessandra Fabi
EMAIL: alessandra.fabi@policlinicogemelli.it
Open Innovation
Head: Alfredo Cesario
EMAIL: openinnovation@policlinicogemelli.it
Programmazione Ricerca Clinica
Head: Domenica Lorusso
EMAIL: domenica.lorusso@policlinicogemelli.it
Scientific Dissemination
Principal Investigator: Prof. Dr. Giovanni Scambia
Supervisor: Dr. Alfredo Cesario
Coordinator: Marika D'Oria, PhD
The Scientific Directorate also conducts literacy and awareness-raising activities on the topic of Personalized Medicine through scientific articles and dedicated books.
Articles on peer-review journals
Books
Personalized Medicine meets Artificial Intelligence. Blitz along the paradigm shift.
Cesario A, D'Oria M, Auffray C, Scambia G (eds) (in press).
Springer.
The book provides an interdisciplinary perspective on Artificial Intelligence in Personalized Medicine for researchers (academic and industrial), clinicians, and students interested in this topic, laying the foundation for important advances in medicine and health care.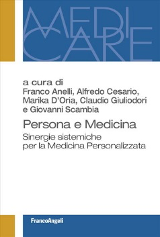 Persona e Medicina. Sinergie sistemiche per la medicina personalizzata
Anelli F, Cesario A, D'Oria M, Giuliodori C, Scambia G (eds.) (2021).
FrancoAngeli: Milano. ISBN: 9788835120384
An interdisciplinary reflection on how people can approach medicine in an integrated way and in various existential situations. This book belongs to the field of Medical Humanities and is intended to appeal to researchers, physicians, residents and students in health care who are interested in learning more about the personalization of medicine in research and care.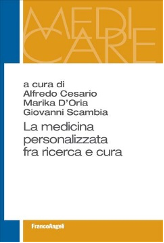 La medicina personalizzata fra ricerca e cura
Cesario A, D'Oria M, Scambia G (eds.) (2020).
FrancoAngeli: Milano. ISBN: 9788835108078

In this book, clinicians and researchers from the Fondazione Policlinico Universitario A. Gemelli IRCCS in Rome illustrate some of the themes of Personalized Medicine that cut across multiple clinical fields, providing reflections, examples, and strategies learned in the field to address the challenges of modern medicine. The book is aimed at medical and surgical students and residents who wish to learn about these topics, as well as researchers involved in basic, translational and clinical research interested in personalized medicine.