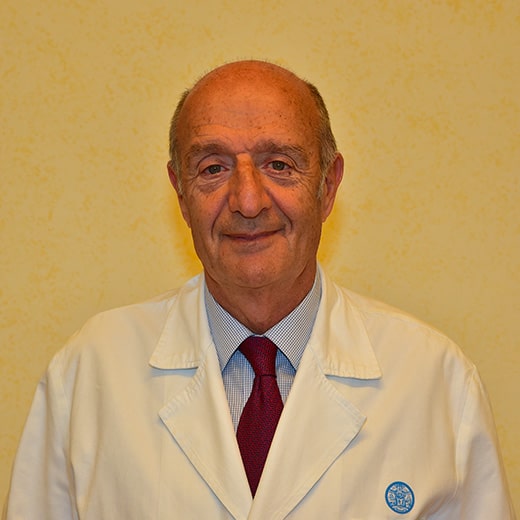 Surgeon
Specialization
Medicina interna
MEDICAL DIRECTOR
Institute of
medicina interna e geriatria
raffaele.landolfi@policlinicogemelli.it
Would you like to make an appointment?
If you make an appointment with the National Public Healthcare System you will be visited by one of the medical team specialists of the area you have chosen. Specialists will alternate, but treatment continuity is always guaranteed.
If you wish to make a private practice doctor's appointment or examination with this specialist, click here:
Patologie trattate
Anemie
Trombosi venose
Ipertensione
Embolia polmonare
Diabete
Arteriopatie periferiche
Febbri
Alterazioni della coagulazione
Patologie di difficile diagnosi
Il Prof. Raffaele Landolfi è specializzato in Medicina Interna ed Ematologia. I suoi principali interessi sono le alterazioni del sistema emostatico in corso di varie patologie e il ruolo dei farmaci antipiastrinici ed anticoagulanti nella prevenzione della trombosi.

Formazione accademica
Laurea in Medicina e Chirurgia conseguita presso l'Università Cattolica del Sacro Cuore – Facoltà di Medicina e Chirurgia (110/110 e lode)
Diploma di Specializzazione in Medicina Interna
Diploma di Specializzazione in Ematologia
Esperienze, incarichi e collaborazioni
Professore universitario presso l'Università del Sacro Cuore di Roma, insegna presso il corso di laurea in Medicina e la Scuola di Specializzazione in Medicina Interna, che dirige dal 2010.
Direttore UOC Clinica Medica e Malattie Vascolari
Professore Ordinario di Medicina Interna
Presidente del Comitato di Consulenza Clinica, Didattica e Scientifica della Fondazione IRCCS
Policlinico Universitario Agostino Gemelli
Adjunct professor of Medicine
Thomas Jefferson University
Philadelphia USA
Pubblicazioni
Consulta le pubblicazioni di
raffaele landolfi
Go