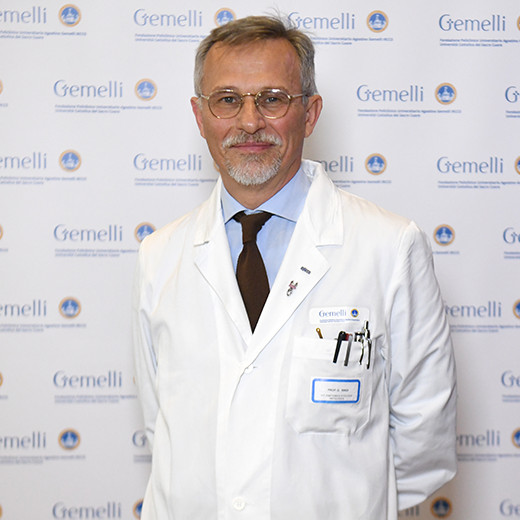 Surgeon
Specialization
Anatomia patologica
PROFESSOR
Institute of
anatomia patologica
guido.rindi@policlinicogemelli.it
Would you like to make an appointment?
If you make an appointment with the National Public Healthcare System you will be visited by one of the medical team specialists of the area you have chosen. Specialists will alternate, but treatment continuity is always guaranteed.
If you wish to make a private practice doctor's appointment or examination with this specialist, click here:
Patologie trattate
Vasta esperienza di diagnostica istocitopatologica neoplastica e non, con particolare riferimento ai nei settori della patologia neuroendocrina, endocrina, gastrointestinale e pleuropolmonare.
Formazione accademica
1982, Dottore in Medicina, Università di Pavia, I.
1986, Specializzazione in Anatomia Patologica, Università di Pavia, I.
1987, Endocrine Pathology Diploma, University of London, UK.
1991, Dottorato di Ricerca, Università di Pavia, I.
1992, Doctor of Philosophy (Ph.D.), University of London, UK.
1991, Ricercatore, Università di Pavia, I.
1992-1994, Fogarty Fellow, Tufts University, Boston Ma, USA.
1998-2001, Professore Associato in Anatomia Patologica Università di Brescia, I.
2001-2009 Professore Ordinario in Anatomia Patologica, Università di Parma, I.
2009-oggi, Professore Ordinario in Anatomia Patologica, Fondazione Policlinico Universitario A. Gemelli IRCCS-Università Cattolica, Roma, I.
Esperienze, incarichi e collaborazioni
AFFILIAZIONI A SOCIETA' SCIENTIFICHE-AGENCY EXPERT MEMBERSHIP
European Society of Pathology (Chair, Endocrine Pathology Working Group 2006-2010); Endocrine Pathology Society; European Neuroendocrine Tumor Society (socio fondatore 2004; Chair, 2008-2010; http://www.neuroendocrine.net).
Expert Consultancy/Faculty: Union for International Cancer Control (UICC); American Joint Committee on Cancer (AJCC); European Society for Medical Oncology (ESMO).
ATTIVITA' EDITORIALE
Associate Editor: Neuroendocrinology, Karger, Basel, CH (2008-today); Editorial Board member: Digestion, S.Karger, Basel, CH (2000-2003); VirchowsArchiv, Springer-Verlag, Heidelberg, D; European Journal of Histochemistry, L.Ponzio, Pavia, I; Neuroendocrinology, Karger, Basel, CH (2004-2008); Pathologica, Pacini Ed, Ospedaletto (PI), I.
ATTIVITA' DI REVISIONE
Reviewer for: Acta Ocologica; Am J Pathol; Am J Surg Pathol; Cancer; Cancer Res; Clin Cancer Res; Endocrine Rel Cancer; Eur J Gastroenterol Hepatol; Gastroenterology; Gut; Int J Cancer; J Clin Endocrinol Metab; J Pathol; J Clin Pathol; Lab Invest; Lancet; Lancet Oncology; Lung Cancer; Nat Rev Gastroenterol; Neuroendocrinology; Oncogene; PNAS; Virchows Arch; etc.
Attività di ricerca
AREE DI RICERCA
Patologia endocrina; patologia gastrointestinale; patologia polmonare; manipolazione genica per lo studio di cellule endocrine e malattie derivate; genetica di tumori endocrini.
PUBBLICAZIONI
Co-autore di 275 lavori su rivista peer-review e 69 capitoli di libro; H-index: 77 (http://scholar.google.it ).
Pubblicazioni
Consulta le pubblicazioni di
guido rindi
Go