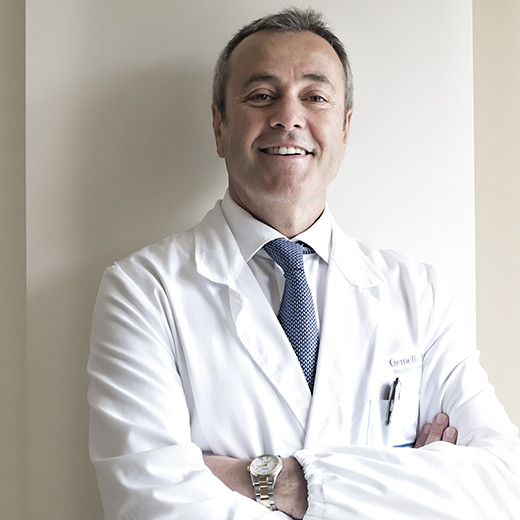 Surgeon
Specialization
Chirurgia generale
ASSOCIATE PROFESSOR
Institute of
clinica chirurgica generale
fabio.pacelli@policlinicogemelli.it
Would you like to make an appointment?
If you make an appointment with the National Public Healthcare System you will be visited by one of the medical team specialists of the area you have chosen. Specialists will alternate, but treatment continuity is always guaranteed.
If you wish to make a private practice doctor's appointment or examination with this specialist, click here:
Patologie trattate
Primo operatore di più di 10000 interventi, prevalentemente di chirurgia oncologica a cielo aperto o con tecnica mininvasiva ( laparoscopica o robotica).
Le patologie più frequentemente trattate sono i Tumori Primitivi del Peritoneo (pseudomixomi e mesoteliomi ) , la Carcinosi Peritoneale ad origine gastrointestinale, i Tumori dello Stomaco , del Colon Retto e del Pancreas, i Sarcomi Retroperitoneali , i GIST (tumori stromali gastrointestinali) con un volume complessivo superiore a 400 casi/ anno.
Tra le tecniche all'avanguardia utilizzate si evidenziano:
la Peritonectomia associata a Chemioterapia intraoperatoria ad alte temperature ( Hypertermic Intraperitoneal Chemotherapy – HIPEC) somministrata allo scopo di trattare la malattia microscopica residua peritoneale non visibile . 
la PIPAC ( Pressurized Intraperitoneal Aerosol Chemoterapy ) metodica sviluppata per il trattamento della carcinosi peritoneale non asportabile chirurgicamente. 
la Chirurgia Robotica ( per tumori gastrici, colorettali, pancreatici e della milza ).
Formazione accademica
Laurea in Medicina e Chirurgia UCSC nel 1985
Specializzazione in Chirurgia Generale Università La Sapienza di Roma nel 1990
Ricercatore Med18 Chirurgia Generale nel 1993
Prof. Associato Med18 Chirurgia Generale nel 2003
Attualmente Docente di Chirurgia Generale nei corsi di Laurea di Medicina nelle Facoltà di Medicina e Chirurgia e di Medicine and Surgery UCSC
Esperienze, incarichi e collaborazioni
Dal 1 Gennaio 2010 al 31 Dicembre 2016 ha ricoperto il ruolo Direttore del Dipartimento di Oncologia, di responsabile dell'Unità di Chirurgia Oncologica della Fondazione di Ricerca e Cura "Giovanni Paolo II" – Università Cattolica del Sacro Cuore (Sede di Campobasso).
Dal 1 Gennaio 2017 è stato Direttore dell'UOC di Day Surgery del Policlinico Gemelli di Roma.
Dal 1 Gennaio 2018 è Direttore della UOC di Chirurgia del Peritoneo e del Retroperitoneo del Policlinico Gemelli di Roma.
È docente di Chirurgia Generale per gli studenti dei Corsi di Laurea di Medicina ed Odontoiatria della Facoltà di Medicina e Chirurgia ed in quella di Medicine and Surgery dell'Università Cattolica del Sacro Cuore di Roma.

Attività di ricerca
È autore di oltre 200 lavori scientifici originali, la maggior parte dei quali su argomenti di chirurgia digestiva, pubblicati sulle più prestigiose riviste scientifiche della letteratura internazionale, alcuni dei quali selezionati dall'editorial board dello Year Book of Surgery, tra i migliori contributi scientifici dell'anno. I suoi campi di maggiore interesse scientifico riguardano il Trattamento della Carcinosi Peritoneale mediante Tecniche Innovative quali la Chemioipertermia (HIPEC) associata a Peritonectomia o la Chemioterapia Aerosolica Pressurizzata (PIPAC) per via laparoscopica, il Cancro Gastrico, i Tumori del Colon-Retto, i Sarcomi Retroperitoneali, i Tumori Stromali Gastrointestinali (GIST), le Infezioni Intra-addominali e le terapie neoadiuvanti in chirurgia oncologica quali la radiochemioterapia preoperatoria nei tumori del retto.
Ha coordinato come responsabile dell'impostazione scientifica e della pubblicazione dei dati numerosi studi multicentrici, che hanno coinvolto diversi centri chirurgici italiani, su alcuni aspetti della chirurgia addominale quali l'utilità della nutrizione artificiale, il ruolo delle resezioni multiviscerali nel cancro gastrico avanzato, l'efficacia della Chemioipertermia (HIPEC) profilattica negli interventi per Carcinoma Gastrico o Colorettale localmente avanzato (T4). Quest'ultimo studio viene svolto in collaborazione con l'Istituto Mario Negri di Milano.

Pubblicazioni
Consulta le pubblicazioni di
fabio pacelli
Go