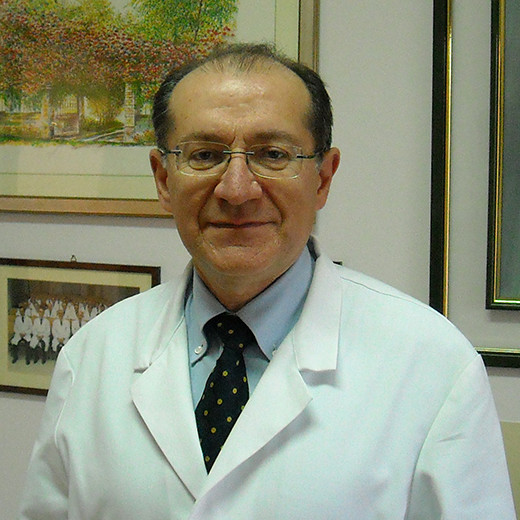 Surgeon
Specialization
Chirurgia generale
ASSOCIATE PROFESSOR
Institute of
patologia speciale chirurgica
claudio.coco@policlinicogemelli.it
Would you like to make an appointment?
If you make an appointment with the National Public Healthcare System you will be visited by one of the medical team specialists of the area you have chosen. Specialists will alternate, but treatment continuity is always guaranteed.
If you wish to make a private practice doctor's appointment or examination with this specialist, click here:
Patologie trattate
Tumori del colon e del retto, polipi del colon e retto, morbo di Crohn e rettocolite ulcerosa, diverticolite colon, appendicite, emorroidi, ragadi e fistole perianali, tumori dello stomaco, ernia iatale ed acalasia esofagea, tumori del piccolo intestino, colelitiasi, ernie inguinali ombelicali e laparoceli, chirurgia laparoscopica, chirurgia oncologica.

Formazione accademica
Tutto il percorso accademico del Prof. Claudio Coco si è svolto presso l'Università Cattolica del Sacro Cuore di Roma. Borsista presso l'Istituto di Patologia Chirurgica dal Dicembre 1981 al Dicembre 1985.
Medico interno universitario con compiti assistenziali dal 1986 al. 1993Ricercatore universitario dal 1993 al 2000Professore Associato dal 1 Gennaio 2001 ad oggiIdoneità a Professore Ordinario in Chirurgia Generale dal Febbraio 2006 confermata a Dicembre 2013 e Maggio 2019 
Esperienze, incarichi e collaborazioni
Il Prof. Claudio Coco è direttore dell'Unità Operativa Complessa di Chirurgia Generale Columbus presso La Fondazione Policlinico Universitario "A.Gemelli" – IRCCS. Direttore del Master di II livello in Chirurgia Colo-Rettale presso l'Università Cattolica del Sacro Cuore. E' socio fondatore della Società Italiana di Chirurgia Colorettale. E' Fellow dell'American College of Surgeons dal 2000 ed ha conseguito l'European Board of Surgery Qualification nel 1996. Membro dell' Italian TNM Staging Committee UICC dal 2010.
Nel corso della sua carriera ha frequentato stages di perfezionamento  presso la Cleveland Clinic Foundation ( Ohio – U.S.A.), il St.Mark's Hospital di Londra, l'Università di Tubingen (Germania) l'European Surgical Institute di Hamburg (Germania), l'IRCAD-EITS di Strasburgo (Francia) . E' attualmente  Titolare dell' insegnamento di Chirurgia Generale (Patologia Sistematica Addome) presso la Facoltà di Medicina e Chirurgia di Roma Università Cattolica del Sacro Cuore.

Attività di ricerca
I suoi principali interessi scientifici e clinici son rivolti alla patologia del tratto digestivo con particolare riguardo alle neoplasie del colon-retto, alla terapia chirurgica delle malattie infiammatorie intestinali ed alle applicazioni delle tecniche di chirurgia mininvasiva nelle malattie dell'apparato digerente. E' autore di  318 pubblicazioni scientifiche con un impact factor totale di 586 ed un H index di 30 (ISI Web of Science).

Pubblicazioni
Consulta le pubblicazioni di
claudio coco
Go